Description
Parkson Safety flip up welding helmet WH-780L:
Introducing the Parkson Safety Flip-Up Welding Helmet WH-780L, a top-notch welding helmet designed to offer welders excellent protection, adaptability, and comfort in various work settings. This helmet is constructed from durable polypropylene, ensuring an impact-resistant shell that enhances user safety and product longevity.
Featuring a window size of 2″ x 4.25″ (50.5mm x 107.5mm), the WH-780L is equipped with a flip-front design for easy access during welding tasks.   It is with great coverage with neck extension design.
The WH-780L comes with the H71A high-strength nylon ratchet headgear for a secure and comfortable fit.
This welding helmet is ANSI Z87.1 and CE EN175 standard approved, ensuring compliance with industry safety requirements. The Parkson Safety Flip-Up Welding Helmet WH-780L offers an exceptional combination of durability, flexibility, and comfort, making it an ideal choice for welders in diverse work environments. Trust the WH-780L for a comprehensive welding protection solution that caters to the unique needs of both professional welders and hobbyists.
Ref:WH-782 with Lens size 4.5×5.25″ lift front.   Ref:WH-784 is same lens size but fixed front.
Ref: WH-786 with Lens size 90x110mm lift front.  Ref:WH-788 is same lens size but fixed front.
Declaration of Conformity WH-780
Brief Detail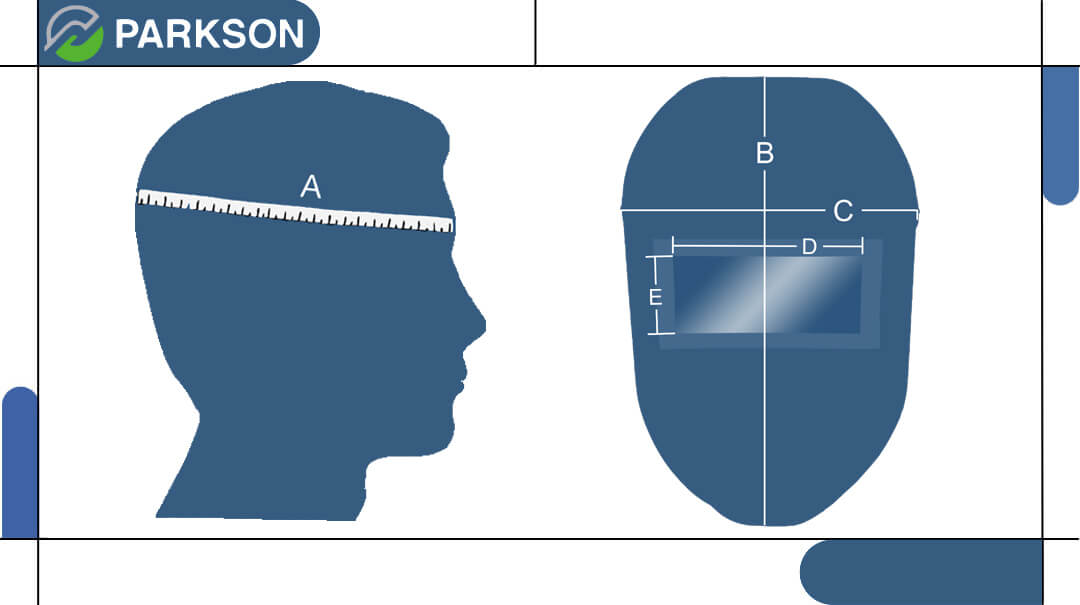 | | |
| --- | --- |
| Model | WH-780L |
| Weight  | |
| Head Sizing (A) | |
| Welding Helmet Length (B) | |
| Welding Helmet Width (C) | |
| Window Length (D) | |
| Window Width (E) | |
| Origin | Taiwan |
| Certification            | CE, EN175, ANSI Z87.1 |
Welding
Often during welding or cutting, as it is a short timeframe weld or cut work, many end users does not use proper eyewear protection.   However, from the UV and IR radiate from welding which is not visible to naked eye and the instant bright light, it can cause burn on the cornea known as Welder's flash or Photokeratitis and inflammation of the eyes.   As well as there could be fine flying debris generate during welding or cutting, which can cause severe eyes damages.  Welding goggle are essential as it protects welders' eyes from heat, intense UV & IR light and flying particles during welding and cutting operations.
Style
Our range of welding helmet are available with lens or with lens, scooped style, streamlined style and welding handshield, as well as slotted over helmet style are available.    Standard with Shade 11 glass lens and custom shade lens are available upon request with MO.   It is recommended to check the welding lens shade before work for suitable selection.   Our range of welding helmet are available with CE EN166 EN175 and ANSI certification which block radiant heat, offer infra-red protection and impact resistant prevent risk of flying particles.   Glass lens have been used widely for welding protection due as it is heat resistant and anti-scratch properties.  But some client does not like the use of glass due to its heavy weight, Parkson Safety also offer alternative PC IR lens.
Lens Size
Lens sizing available in 2"x4.25", 4.5×5.25", 90mmx110mm, 83x108mm.   We can carter for client special request for custom sizing PC clear lens, where the PC lens available in big sheet and we can cut up custom sizing.
PARKSON Anti Fog AF Coating Technology
FAQ:
1.Why would I want to work with your company?
Parkson Safety provide professional ODM service to worldwide customers by supplying products under private branding.   We have vast experiences and knowledge in customized branding.
As our products are for personal safety purpose, most countries have local safety regulation.   We worked with INSPEC, SGS, DIN CERTO, CRITT, BSI GROUP as example for certification of products.  We have tech staff to perform secondary CE cert application as support.   If client have special testing requirement, we work with local test lab such as SGS Taiwan for product testing.
Additionally upon confirm order, we have artwork staff help to custom design packaging artwork free of charge.   We can also help to provide high quality image for advertising and also DM/Flyer for local distribution.
Our sales teams have vast experiences, if you have any inquiries, welcome to further discuss your requirement with us.
2. What kind of branding options are available?
Frame color can be change upon request with MOQ

Custom Logo such as embossed, printing, pressed logo and laser engrave are available depending on products range.

Own Brand Packaging such as headercard, paper box, window box, dispenser box, color corrugated color, color polybag and ziplock bag…etc

We carter for custom packaging material, such as warning sticker label, barcode label and instruction leaflet..etc.
3. How do I know what the product looks like with logo?
Our artwork staff can help to arrange digital proofs with logo on products for approval before production.
4. How are your goods package?
Depending on product type, for example safety spectacles/protective goggles/earmuff, these are package in polybag and then inner box and then in corrugated master carton.
Custom Pallet packing with plastic wrapping can be carter with additional charge.
5. Do you offer samples and are their cost required?
For standard product products we are happy to offer few items free of charge, but freight cost needs to be cover.  However, if it is a high cost product or required a lot of samples or if it is customized product, there will be sample charge apply.   For shipment, we recommended client arranging reserve collection via local express service to pick up samples from us.  Or we can quote with our partner express service for cost to the nominated postal address.
PARKSON Mirror M Coating
6. What is sample lead-time?
For standard product and are available on hand, sample lead time around 3-5 days.  If samples are not available on hand or if it is customized sample, please kindly allow longer wait time.
7. What certification do you have?
We have ISO 9001 and are certified by Dun & Bradstreet Number:657536132
As we are selling safety protection equipment, we also have CE certification for EU market and third party test report for ANSI (US market).
8. Do not have FDA?
No, we do not have FDA
9. What is your MoQ?
In general our MoQ is USD10,000 per shipment mix item acceptable.
It is very welcome to advise the required qty and we will try to carter for the qty of interest.  We understand a smaller trial order is required to develop trust and to test the market.
10. What kind of shipping method do you offer?
Most of our clients arrange sea shipment port to port.  For urgent orders we can arrange express courier service such as FEDEX/DHL/TNT.  We can also carter for air freight airport to airport and also sea shipment with to door delivery service.
11. Do you keep stock?
Most items we do not keep stock.  We produce goods base on confirm order, as most of our client arrange products with their own logo.   We might have a small qty of standard product as sample.
12. Do you ship to different countries?
Yes, we have customers all over the world.  In some countries we might have exclusive or local distributor.   Please feel to let us know of your requirement and we can direct them to you.
13. Can we arrange inspection after goods completion?
Understanding we are working internationally, third party inspection is welcome. We have worked with SGS/V TRUST/TESTCOO/Intertek/UL/BV.   Alternatively, we can also help to provide photos of goods upon completion and offer shipping samples for checking before shipment.   In some countries, it is required third party organization to issue certificate of conformity before importation, our staff have vast experiences and can offer professional assistance.
14. What is production lead time?
Production time depends on product type and qty, in general please allow 60days.