Description
Parkson Safety Electrical Substations PPE Earmuffs EP-149: Your Ideal Solution for Comfortable and Effective Hearing Protection
The Parkson Safety EP-149 PPE earmuffs are an attractive and comfortable option for ear protection in noisy environments, particularly for those working in electrical substations or construction, manufacturing, industrial, and mining fields.
These earmuffs feature beautiful dual color cups that provide both protection and aesthetic appeal. The soft headband provides great comfort for extended wear, while the adjustable cups angle ensures a perfect fit for all facial types.
The EP-149 conforms to both ANSI S3.19 certifications, ensuring it meets high safety standards. With a Noise Reduction Rating (NRR) of 26 dB, it effectively blocks out most types of noise to keep your hearing safe and protected.
Whether you are working in a noisy environment or participating in loud recreational activities, the Parkson Safety EP-149 PPE earmuffs are an excellent choice for comfortable and effective ear protection.
Brief Detail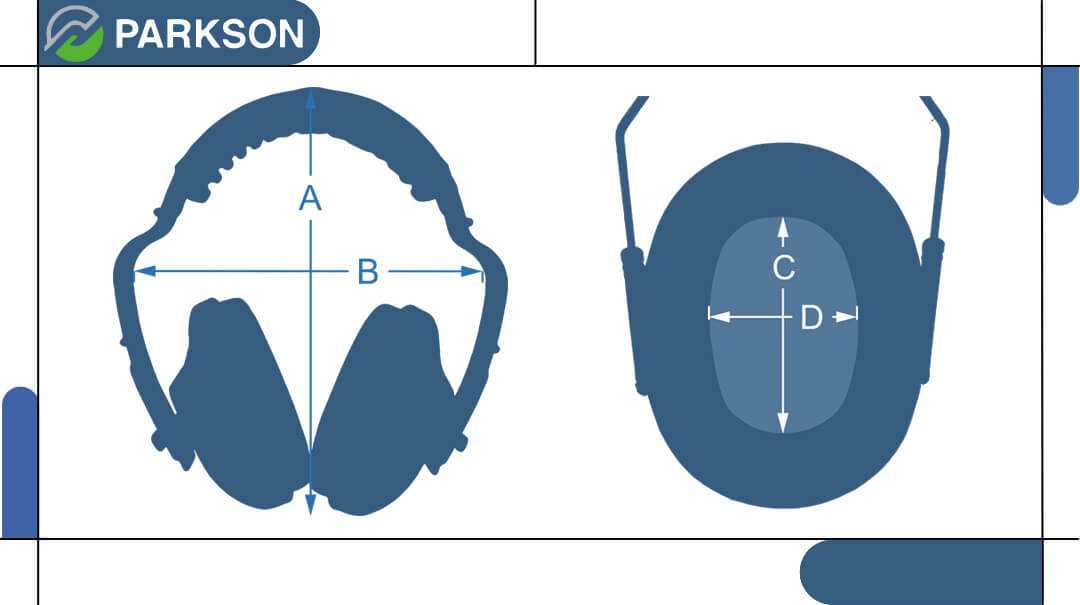 | | |
| --- | --- |
| Model | EP-149 |
| Weight  | 233g  (8.2oz) |
| Length (A) | 179mm – 192mm  (7in – 7.6in) |
| Width (B) | 135mm  (5.3in) |
| Cup Length (C) | 70mm  (2.8in) |
| Cup Width (D) | 39mm  (1.5in) |
| NRR | 26dB |
| Origin | Taiwan |
| Certification            | ANSI S3.19 standard |
Danger of loud noise:
Often people do not use hearing protection working in loud settings as they might think there is no immediate danger and only for short term expose of sudden loud noises.  But studies have shown, earmuff is essential in occupational safety, where damage of hearing can cause complicated problems.  Anxiety and distress might be arised due to unable to achieve proper communication from hearing loss.
There is also a false concept to think the higher the noise reduction rating will be better for the earmuff.   It is usually the case when you only look at noise protection level.   But when you consider a bulky earmuff on head over a long 8hrs work shift, it might create headache and discomfort and reduce desire to use the earmuff.   As well, when hearing earmuff with high noise reduction level, it will block out all noises and unable to communicate with other people and not able to hear warnings or alarm.
Earmuff selection:
Please check with local health authorities for earmuff selection in different settings.   We suggest not only to select earmuff base on noise level exposure, but also to consider requirement on comfort level and influence on communication.   Refer: CDC tips for choosing the right hearing protector
Parkson Safety offers a variety of earmuff protection including passive earmuff, helmet mounting earmuff, reusable, disposable earplug, earband and electronic earmuff.     Earmuff design in traditional style, foldable style, dual color and metal free design.  Please feel free to speak to our professional sales team for further discussion.
PARKSON Anti Fog AF Coating Technology
FAQ:
1.Why would I want to work with your company?
Parkson Safety provide professional ODM service to worldwide customers by supplying products under private branding.   We have vast experiences and knowledge in customized branding.
As our products are for personal safety purpose, most countries have local safety regulation.   We worked with INSPEC, SGS, DIN CERTO, CRITT, BSI GROUP as example for certification of products.  We have tech staff to perform secondary CE cert application as support.   If client have special testing requirement, we work with local test lab such as SGS Taiwan for product testing.
Additionally upon confirm order, we have artwork staff help to custom design packaging artwork free of charge.   We can also help to provide high quality image for advertising and also DM/Flyer for local distribution.
Our sales teams have vast experiences, if you have any inquiries, welcome to further discuss your requirement with us.
2. What kind of branding options are available?
Frame color can be change upon request with MOQ

Custom Logo such as embossed, printing, pressed logo and laser engrave are available depending on products range.

Own Brand Packaging such as headercard, paper box, window box, dispenser box, color corrugated color, color polybag and ziplock bag…etc

We carter for custom packaging material, such as warning sticker label, barcode label and instruction leaflet..etc.
3. How do I know what the product looks like with logo?
Our artwork staff can help to arrange digital proofs with logo on products for approval before production.
4. How are your goods package?
Depending on product type, for example safety spectacles/protective goggles/earmuff, these are package in polybag and then inner box and then in corrugated master carton.
Custom Pallet packing with plastic wrapping can be carter with additional charge.
5. Do you offer samples and are their cost required?
For standard product products we are happy to offer few items free of charge, but freight cost needs to be cover.  However, if it is a high cost product or required a lot of samples or if it is customized product, there will be sample charge apply.   For shipment, we recommended client arranging reserve collection via local express service to pick up samples from us.  Or we can quote with our partner express service for cost to the nominated postal address.
PARKSON Mirror M Coating
6. What is sample lead-time?
For  standard product and are available on hand, sample lead time around 3-5 days.  If samples are not available on hand or if it is customized sample, please kindly allow longer wait time.
7. What certification do you have?
We have ISO 9001 and are certified by Dun & Bradstreet Number:657536132
As we are selling safety protection equipment, we also have CE certification for EU market and third party test report for ANSI (US market).
8. Do not have FDA?
No, we do not have FDA
9. What is your MoQ?
In general our MoQ is USD10,000 per shipment mix item acceptable.
It is very welcome to advise the required qty and we will try to carter for the qty of interest.  We understand a smaller trial order is required to develop trust and to test the market.
10. What kind of shipping method do you offer?
Most of our clients arrange sea shipment port to port.  For urgent orders we can arrange express courier service such as FEDEX/DHL/TNT.  We can also carter for air freight airport to airport and also sea shipment with to door delivery service.
11. Do you keep stock?
Most items we do not keep stock.  We produce goods base on confirm order, as most of our client arrange products with their own logo.   We might have a small qty of standard product as sample.
12. Do you ship to different countries?
Yes, we have customers all over the world.  In some countries we might have exclusive or local distributor.   Please feel to let us know of your requirement and we can direct them to you.
13. Can we arrange inspection after goods completion?
Understanding we are working internationally, third party inspection is welcome. We have worked with SGS/V TRUST/TESTCOO/Intertek/UL/BV.   Alternatively, we can also help to provide photos of goods upon completion and offer shipping samples for checking before shipment.   In some countries, it is required third party organization to issue certificate of conformity before importation, our staff have vast experiences and can offer professional assistance.
14. What is production lead time?
Production time depends on product type and qty, in general please allow 60days.